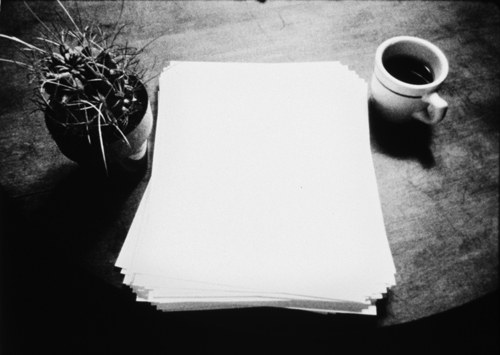 Beginning today, whether you are gearing up for a full course load this fall, or just looking for some independent scholarly reading, Anthology wants you to go back to school here, your favorite home for independent, experimental, artist-made cinema!
Now through October 15th, in addition to all of our member benefits, any new or renewing members will receive:
50% off the purchase of one of these four books:



- Optic Antics: The Cinema of Ken Jacobs (now just $17)


- Jonas Mekas's Movie Journal―The Rise of the New American Cinema (now just $15)


- P. Adams Sitney's Visionary Film (now just $15)


- The Adolfas Diaries Books 1 & 2 (now just $22 for both)



Plus,

student

members will receive two bonus months of membership for free!
Compliment your year of free Essential Cinema screenings with one of these essential texts!

Visionary Film: The American Avant-Garde, 1943-2000, 3rd Edition

Regularly $30 incl. tax

Critics hailed previous editions of Visionary Film as the most complete work written on the exciting, often puzzling, and always controversial genre of American avant-garde film. This book has remained the standard text on the American avant-garde since the publication of its first edition in 1974. Now P. Adams Sitney has once again revised and updated this classic work, restoring a chapter on the films of Gregory J. Markopoulos and bringing his discussion of the principal genres and major filmmakers up to the year 2000.
Movie Journal: The Rise of the New American Cinema, 1959-1971

Regularly $30 incl. tax

In his Village Voice "Movie Journal" columns, Jonas Mekas captured the makings of an exciting movement in 1960s American filmmaking. Works by Andy Warhol, Gregory J. Markopoulos, Stan Brakhage, Jack Smith, Robert Breer, and others echoed experiments already underway elsewhere, yet they belonged to a nascent tradition that only a true visionary could identify. Mekas incorporated the most essential characteristics of these films into a unique conception of American filmmaking's next phase.
Optic Antics: The Cinema of Ken Jacobs

Regularly $33 incl. tax

Ken Jacobs has been making cinema for more than sixty years. Along with over thirty film and video works, he has created an array of shadow plays, sound pieces, installations, and magic lantern and film performances that have transformed how we look at and think about moving images. He is part of the permanent collections at MoMA and the Whitney, and his work has been celebrated in Europe and the U.S. This book includes essays by prominent film scholars along with photographs and personal pieces from artists and critics, all of which testify to the extraordinary variety and influence of his accomplishments.
Anyone interested in cinema or experimental arts will be well-rewarded by a greater acquaintance with the genius, the innovation, and the optical antics of Ken Jacobs.
The Adolfas Diaries Books 1 + 2

Each book regularly $22 incl. tax

A gifted filmmaker and legendary figure at Bard College, where he founded the film department and taught for more than three decades, Adolfas Mekas came to New York from Lithuania with his brother Jonas (Anthology's co-founder and Artistic Director) in 1949. After launching Film Culture magazine together, the Mekas brothers turned to filmmaking, collaborating on GUNS OF THE TREES and THE BRIG. Adolfas would soon go on to produce a remarkable body of work of his own, with films including HALLELUJAH THE HILLS, WINDFLOWERS, and GOING HOME.
His diaries, now lovingly and carefully edited by his wife, singer and arts producer Pola Chapelle, are, page after page, testimony to what is often too facilely called, the triumph of the human spirit.